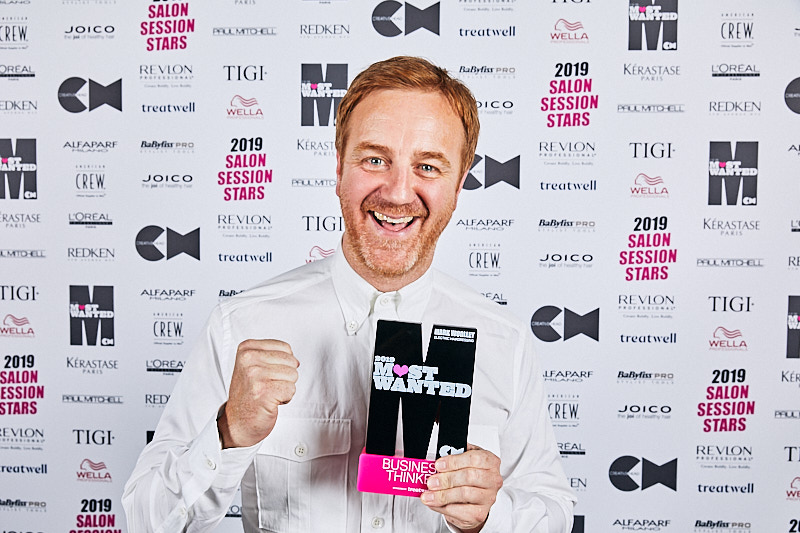 Electric Founder & Creative Director, Mark Woolley has been named winner of the Business Thinker category at a leading awards event for the professional hairdressing industry, Most Wanted. Business Thinker recognises a salon owner or director who has built an outstanding salon business.
Established in 2001 and presented by top industry magazine Creative HEAD, Most Wanted celebrates the most accomplished individuals, teams and businesses in British and Irish hairdressing.
Judges dubbed Mark "a genius" and "inspirational" – impressed by his multi-platform brand, which spans salon, studio, academy and even boasts a farm, from which ingredients for his products are sourced.
"Mark is a well-known name in British hairdressing and his six salons are testament to his incredible acumen. To win Business Thinker, you have to go beyond standard practice; you must prove growth and success, of course, but also that you are leading innovation, shaping change and evolving to stay current. With Mark at the helm, Electric Hairdressing continues to expand and excel", said Catherine Handcock, publisher of Creative HEAD.
An impressive group of more than 50 independent judges deliberated over Most Wanted entries, in order to determine the 2019 winners. Experts included Joely Walker, beauty & health director at Grazia, Sonia Haria, beauty director at Telegraph Group, Gemma Bellman, director of Europe at Glossier, session stylists Johnnie Sapong, Ken O'Rourke and Neil Moodie and talent agents from Premier Hair & Make-up, Streeters and The Wall Group.
Mark was announced as a winner at the Creative HEAD Most Wanted Grand Final, held on Monday 2 September 2019 at Printworks London – a converted printing factory that now hosts some of the most talked-about DJs on the music scene – and hosted by comedian Luisa Omielan. In the audience were more than 700 A-Listers from the hair, fashion and media industries, who gathered to see the 14 Most Wanted trophies presented.
On winning the award Mark said: "It's a huge honour, there's some great people in the finalist line-up. Electric family, big up! We're a brand, not a person, we're in it together and we genuinely feel like we're doing something different. Everyone who's on the journey, thank you very much, what a night!"
Electric will be featured heavily in the October issue of Creative Head magazine, make sure you grab a copy to check it out!!